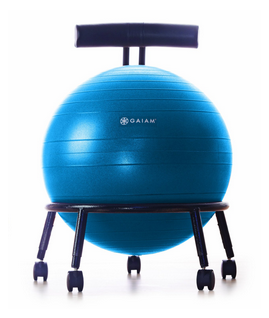 Boost your strength and energy levels with the Gaiam Custom Fit balance ball chair, the customer favorite for the past few years. This particular ball system turns your favorite fitness ball into a multi-functional posture-improving chair. With better posture comes better back strength and with better back strength comes better circulation. You can now achieve all of this simply by sitting.
The included 55-centimeter exercise balance ball is latex-free and best of all removable leaving your more options for use. The product can be incorporated as your fitness yoga ball or as your go-to chair to promote better posture during those long dreadful hours at work. Below I have provided a more detailed description and review of this product.
Ratings:
Cost: 4.7/5
Ergonomic Rating: 5/5
Comfort: 5/5
Customer Feedback: 5/5
Overall Score: 4.93/5
Rated just under five stars.  We at Modeets feel strongly that this is indeed the best yoga ball chair product of its kind.
Customers on Amazon state that it is very easy to assemble, as well as easy to adjust and get used to. Customers also find that it helps them have better upper-body mobility.
"This has made sitting at the office so much easier on my back, it's also extremely comfortable and easy to get the hang of. I love my new balance ball chair." –Craig C.
"I was skeptical at first because I knew you had to constantly balance yourself, but having the back rest option makes it a lot easier and fun too! My back never hurts anymore!" Susan K.
Amazon Best Sellers Ranks: #4,624 in Sports and Outdoors
Key Features/Benefits:
With this custom fit balance ball you'll greatly improve your posture, and back strength all while sitting by constantly engaging your smaller supporting muscles.
Standard anti-burst ball designed to boost overall health by strengthening muscles.
Forces proper spine alignment while reducing joint pain using the ergonomically designed back rest to improve balance.
Improves circulation and helps you stay active providing more energy versus sitting in one position the whole time.
Burn up to 350 calories a day.
Includes a stretching and strengthening guide.
Includes a DVD with a few ten-minute express routines and three 20-minute workouts.
Comfort:
The greatest thing about this product is its high comfort level. Better and more improved than the last model with innovative seating solutions that turn a standard exercise ball into a comfortable posture-improving chair. Perfect for desk jockeys or those who sit for long periods. No need for straining your neck and back anymore because by using this ball chair, it actually causes you to frequently change position in order to balance. For example, if you turn your body 45 degrees to face your computer or phone, your body will assume a new position greatly reducing any damage caused by prolonged sitting.
Style:
A removable and latex free 55-centimeter anti-burst ball with a cushioned back and adjustable legs attached to a secure metal base with lockable castor wheels. Specifically designed to provide comfort and noticeably less neck, back, and joint pain. This ball chair is also available in four different colors.
Cost:
This item ships internationally and is very cost effective.  Currently, saving you 21% plus free shipping.